It was the end of a long and tiring day. We were getting back to our tents from our evening hike.
"How hungry is everyone?" asked Grant.
"Pretty hungry" said many people. After all, it was the end of the day, and the last we ate was before we set up our tents and went on a hike.
"Ok, so would you like to just boil the pasta and dump the sauce over it? Or boil the pasta and bake it?"
At the mention of baking, no one was immediately hungry. "Just make it the best" said many people, and Grant set about baking the pasta. Most of were surprised that it was so easy to make proper food like pasta over a camping fire. "Can it even be done?" someone asked. Grant first boiled the pasta, then strained it, then baked it for some time in sauce and cheese. When the final dish was set on the table and the lid opened, the pasta was still faintly bubbling, and had a wonderful aroma. Also, we spread butter, garlic, and cheese over bread slices and put them over the fire to make garlic bread. I loved the delicious dinner, perhaps more precious because it was eaten outdoors.
That night I was also introduced to a new dessert: s'mores. Several people were sharpening little twigs, and I did not understand why. Later, we used these twigs to pierce marshmallows that we roasted over the fire. Once the marshmallow was melted and gooey, we wrapped it between 2 graham crackers and a piece of chocolate. Yay s'mores, they were delicious!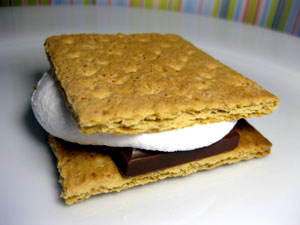 **
The next day, in the wet morning, Grant was making pancakes. The fragrant pancakes sizzling in an iron pan were very very attractive on a damp day. Everyone agreed that the pancakes were delicious.
"Camping makes everything taste good" said Sean.
"No, it's the pan, its iron" I said.
"The pan?" Grant raised an eyebrow.
"Well, I didn't know of any pan that imparted its flavor to food" Sean replied. Boohoo, nobody believed me. But I do think that different pans give a mild but distinct flavor to food. Cook the same food in iron pan, an aluminium pan, a teflon pan, a steel pan, you will definitely have different flavors. Now add different cooking fires, an oven, a tandoor, a microwave, an open fire, and you will have still more flavors. Mild, but there nonetheless.

**
"Don't you find American food bland?" asked Kensie.
"Yes I do, it's very bland indeed" I replied. I was staring at my "veggie platter" that consisted of boiled carrots, boiled maize, lettuce and carrots in mayonnaise sauce, and potato in butter. I could not detect any spices in the platter. "In Nepal, we use a lot more spices than just salt and pepper."
"Yes, thank god, I am not the only person who thinks so" Kensie was ecstatic. "Did you write home about American food?"
Actually, that was a strange question, but I had wrote home about it. About how there is so much cheese in everything, and how there is no "tarr" over milk, and how the consistency of the yogurt is different in a way that I cannot describe.
"In fact, we gain weight from bland food" Kensie informed us. "Because it is so easy to consume, we can have more of it, and because spicy food is difficult to eat, we eat less of it. So if you want to lose weight, eat spicy food."
"That tip works the other way around for me" said Brandon. "I am always trying to put on weight, and my doctor advised me to eat twinkies and ice creams."
"Oh wow, I wish someone would prescribe ice creams for me" I was wistful, because that was not going to happen anytime soon.

**
I never expected the camping to be a culinary experience, but it was. From Trisha's delicious peanut butter and jelly sandwiches to pasta and garlic bread on open fire, to the local (in Kensie's words, bland) restaurant in Goreville, to Cockerel restaurant the next morning (where almost everyone seemed to be eating something I had never seen: oatmeal, grit, applesauce, my own fried apples...), there was so much variety in just two days! What an awesome time for my tummy!