Once upon a time, a Martini used to be James Bond's favourite drink. His instructions on how to make it: "Shaken, not stirred" was iconic, synonymous to Bond himself. It was used in several other movies and books to identify
Bond. But not anymore. Since the past two movies, James Bond's drink of choice has been Heineken Beer. Why did the
movie
producers decided to change such an iconic element of James Bond's lifestyle? Because Heineken paid them to do so. The days when stars advertise their brands in commercials is passé, these are the days of product placement, where products are advertised within the movies. The scene may look like an innocent part of the movie, but the truth goes far deeper.
If you watched the much hyped Chennai Express (which I fervently hope you did not, for your own good), you must remember Shahrukh Khan rattling off at breakneck speed the benefits of his phone. You might think he is being just annoying when he lists everything that a Nokia Lumia 920 can do, and finishes off with the price. But this is another case of product placement. And it is no coincidence that when the phone was thrown off the train, we got a close up of it twinkling amidst pebbles, not a scratch on it. When we walk out the theatre, they want us to say "remember, the phone did not break even when it was thrown off a train."
The scene channelized a tried and tested advertising formula: whether the advertisement creates good buzz or bad does not matter, what matters is the brand recall. In other words, whether or not consumers remember a product is all that matters. The formula is used successfully in products like Bingo or close-up that make fun of themselves, but use striking ideas to do so. It was also used in the Zindagi Na MIlegi Dobara, where BPL was called bum pe laat. Sure, it makes fun of BPL, but the joke ensured that BPL the brand remained with viewers for long after the movie. The same was the case with Chennai Express. Yes, Shahrukh Khan was annoying, and Deepika made fun of his phone. But also, now all unsuspecting viewers remember the phone and its qualities by heart.
At least, this advertisement makes sense in the story. If anyone had watched the insipid movie Chashme Baddoor (which, again, I wish no one ever did) you probably remember the irritating scene where two characters sing a certain washing powder's entire advertorial song, twice over. You might be forgiven if you thought the characters are so awkward at bonding that they have to resort to such unusual means
.
B
ut surely it is possible to show an awkward bonding without any help from washing powders? In fact, the entire ten minutes that precedes the song, of one character dirtying his shirt, and the other washing it to perfection, is nothing but one big long advertisement, if you think about it.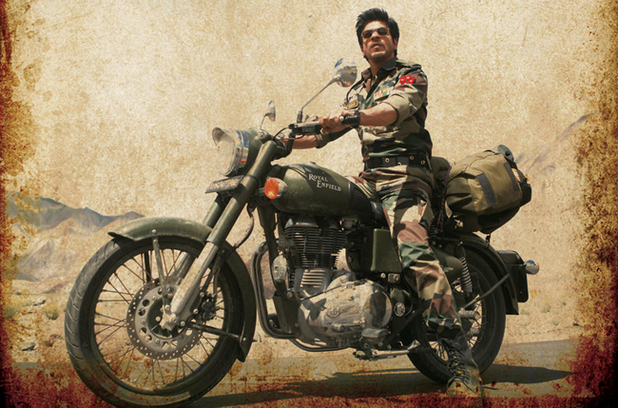 No brand that appears in a movie is innocuous, though it may look so. Especially if it appears for more than two seconds. The air hostess academy that Katrina Kaif went to in Welcome paid for its name to appear in the movie, and Singapore Tourism Board heavily sponsored Krish. Shahrukh Khan may have got misty eyed at the sight of an Enfield motorcycle in Jab Tak Hei Jaan, and Ali Zafar may talk about his Mahindra Scooter with as much affection as for his girlfriend in Chashme Baddoor, but at the end of the day, those emotions are fake. (I mean, of course all emotions are faked in a movie, but this a different level of fake. I am sure you know what I mean by now.)
Remember how Akshay Khanna and Aishwarya Rai drank from the same soft drink bottle in Taal? They could have fallen in love over a glass of homemade lassi or a local sugarcane juice, but no, it was Coke, because the multinational giant sponsored the scenes. And remember how Hrithik drinks only Bournvita in Koi Mil Gaya? Yes, it fits his childish character, but it fits the producers' pockets even better. Ghanchakkar, after all that hype, turned out to be a forgettable film, but watchers will be loath to forget Vidya Balan dangling a packet of Manforce to Emraan Hashmi. Even period movies are not left alone. The jewellery brand Tanishq had designed an entire bridal line for Aishwarya Rai in Jodha Akbar, and a lighter everyday line for Paheli. Of course, modern brands cannot be named in a period movie, but it can be talked about extensively, which was done under their agreement.
Movie watchers have loved to copy the trends their favourites stars sport, and most fashion trends in modern times have come from the entertainment industry. If movies can make fashions popular, why not brands? Hollywood movies, especially action movies, advertise many gadgets and vehicles this way. And research says that this is fast becoming the most reliable type of advertising.
On one hand, innovative ways of advertising are good for everyone: the marketing industry, the products. Movie producers are happy to have a reliable source of finance. And if people buy these products, it boosts the economy. But on the other hand, what about creativity and storytelling? What if, in future movies, every five minutes is peppered with a corporate reference? Yes, it may fit perfectly in the story, like the three protagonists' trip to Spain in Zindagi Na Milegi Dobara, but would the story have been different if it had been set somewhere else? Was the story compromised for the sake of advertising the Tomatina festival, for instance?
What if we start altering our storylines just so that we can accommodate a few more brands? What if we compromise even on the central theme of our story, like James Bond did? And what if, like the washing powder ad in Chashme Baddoor, the ads just get clumsier and clumsier? Will we be forced to sit through boring advertorial collage for our money, instead of watching a story that touches our hearts? Maybe, at one point, having "Coca-Cola" in a song, was cool and funny (remember Latka from Hindustani, way way back? That was much before brands paid their way into movies). But today, the "set wet smell" in the middle of a song just reeks of money (Charlie in Matru ki Bijli ka Mandola).
Thankfully, product placement has not gained so much traction in Nepali movies yet. The last movie I watched, Loot, was still free of conspicuous advertising. Maybe because our market is so small that big brands have not found it worth investing in yet. As a result, we retain our creativity and freedom, whatever small measure we have of it. But the day is not far behind when the eagle eyes of multinational companies spot smaller markets. It goes without saying that their financing is desperately needed in Nepali films, where our limited market makes investment on a bollywood scale risky for individuals. However, corporate financing does come with a heavy cost, and our entertainers will have to fight to retain the integrity of their stories. We, the viewers must remember that whenever we see a brand in a movie, it's not there because our favourite star likes it, or even that the scriptwriter thinks it is cool. Anytime we see a hero drinking Sprite and the heroine eating Lays, we must remember that it is no coincidence.